Fast, competitively-priced roll off containers and dumpster rental in Naperville IL.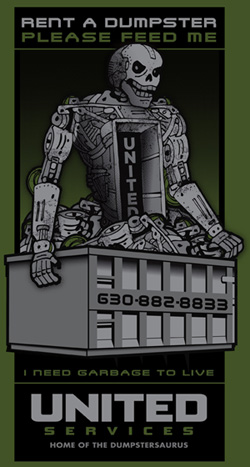 At United Services, we're in the business of gobbling up your unwanted junk, trash, debris or other wastes. We're the home of "Dumpstersaurus" – He needs your garbage to live. Rent a dumpster today and start feeding the beast!
We stock 10, 15, 20, 30 and 40 yard roll off containers. We'll help you choose the ideal bin size for the job. Our dumpster consultations are always free, so give us a call at (630) 882-8833 today to get started.
We work with a variety of customers ranging from homeowners looking to clean out their garage, to commercial or industrial building clients working on major renovation or construction projects. No matter the size of the job, we have the waste removal solution.
Roofers Trust United Services
Roofing contractors know that we understand there seasonal limitations and whether related concerns . We specialize in the fast removal and recycling of roof tear off and asphalt shingle aftermath. We use safety underlayment under all designated roofing dumpsters to minimize driveway scratches or damage.
Prohibited Items:
Please do not put any of the following materials in your dumpster.
No hazardous waste
No liquid waste – Freon, chemicals, etc.
No paint (dry cans only)
No scrap tires
No equipment with gas, oil, of freon
No biohazard/medical waste
No asbestos or PCBs
Don't want to load the container yourself?

We got you covered! Our "You Load, We Load" service takes care of all the heavy lifting for you. Our experienced crew will bring over the dumpster and load up the junk or debris for you. It's a program unique to United Services, and we take pride in being able to offer it to our customers.
Learn more about United Services' junk removal
Why rent a roll off container from United Services?
We understand that you have a choice when it comes to renting a dumpster, and here's why we think United is your best option:
Experience – We were founded in 1980 and offer decades of combined experienced in the waste hauling business.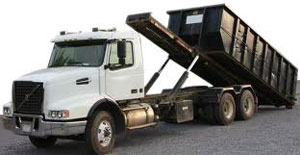 Equipment – We offer a large inventory of dumpsters in all of the most common sizes, huge fleet of roll off trucks on standby, and equipment necessary to load up dumpster in the most efficient and safe way possible.
Rates – We strive to provide the most affordable rates in the area. Call (630) 882-8833 for a free quote.
Service – Our management and staff is committed to achieving complete customer satisfaction. We're not happy unless you are! With United, expect service that's friendly, professional, accommodating and helpful every step of the way.
Flexibility – We'll work around your schedule and accommodate you as best we can.
Safety – We're a fully insured company that takes all precautionary measures. If your dumpster will be used for shingle removal we will use driveway-safe protective sheething (this is standard for all roofing contractors). Safety is a top priority with United.
How does the dumpster rental process work?
It's simple and quick. Here's what to do:
Give us a call at (630) 882-8833 and describe the project. Knowing the project and type of debris we're dealing with helps us determine the perfect container size for you. We'll also discuss pricing, duration of the rental, prohibited wastes and whether or not a dumpster permit will be necessary.
We will drop off the container at your home, business or job site at the agreed upon date and time. If you have any special requests as to where you want the bin located, be sure to let us know! We'll do our best to accommodate you as best we can.
Load up the dumpster, and give us a call if you finish with the cleanup earlier than expected. We can usually come get the container off your property before the pick-up date. Otherwise, we'll come grab the container on the agreed upon pick-up date and haul away the waste to the local landfill or recycling facility.
Get started today by calling (630) 882-8833 to get a free dumpster quote for dumpster rental in Naperville IL