No matter the size of the project, we have the right dumpster for you
United Services has the right container for the job. Our huge inventory of roll off dumpsters and fleet of roll off trucks means we'll have your container in stock and dropped off on site before you know it – within 24 hours in many cases.
We offer all of the most common dumpster sizes ranging between 10 and 40 cubic yards. Our containers are ideal for residential, commercial, industrial and government cleanups or cleanout projects.
United Services' roll-off container capacities and dimensions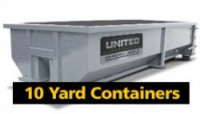 10 yard container – 13 ft. x 8 ft. x 3 ft. (LxWxH)
Home cleanups, basements, attics, garage, roof repairs, yard debris, and more.


---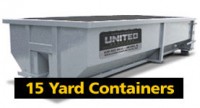 15 yard dumpster — 16 ft. x 8 ft. x 4 ft. (LxWxH)
Two-stall garage cleanout, barn cleanout, roofing repairs, bathroom remodel, furniture set disposal, etc.


---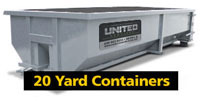 20 yard dumpster — 22 ft. x 8 ft. x 4 ft. (LxWxH)
Major house cleanup, roofing projects, garage demolition, home addition, large deck removal, bulky item disposal.


---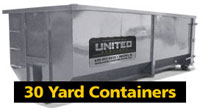 30 yard dumpster — 22 ft. x 8 ft. x 6 ft. (LxWxH)
Roofing shingle debris, kitchen and bathroom renovation, whole-home flooring removal, commercial, etc.


---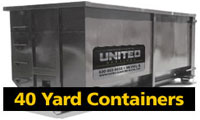 40 yard dumpster — 22 ft. x 8 ft. x 8 ft. (LxWxH)
Construction projects, commercial or industrial cleanouts, whole-home gutting, demolition work, large roofing projects, and much more.


---
Which dumpster size is right for me?
It's sometimes difficult to estimate the amount of debris any one project will produce, but the knowledgeable staff at United Services has over 30 years of experience doing just that. We can help you choose the ideal container size based on the project type and overall scale of the job.

You can get a clearer picture of just how much space junk and debris consume inside a dumpster by visualizing the size of a standard kitchen stove, which is approximately 1 cubic yard, or 3 ft. x 3 ft. x 3 ft.
Based on this example, you could fit the equivalent of approximately 10 kitchen stoves inside a 10 yard roll off container. However, it's important to keep in mind that different types of wastes, junk and debris have varying shapes and dimensions. Dumpster dimensions also affect exactly how much will fit inside the container. So, feel free to use our expertise in choosing the optimal dumpster size for your project.
Call (630) 882-8833 to reserve a 10, 15, 20, 30 or 40 yard dumpster today