United Services is committed to recycling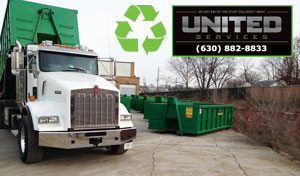 We feel that it's our duty as a local waste hauler to promote and be an active participant in the recycling efforts in and around the City of Aurora. We've made it a priority to engage in waste diversion techniques and help our customers be a part of the recycling success here in Aurora.
The City's vision for the future is spelled out in its City of Aurora Sustainability Plan published in 2009. It's a long-term plan to promote and implement energy reduction initiatives, waste diversion and recycling throughout the City. It is part of the City of Aurora Green Initiatives campaign, which has helped mold the City into one of Illinois' leading examples of what it takes to become a more sustainable, eco-friendly community.
How we're helping, and what we recycle
We're helping to keep wastes and debris from entering local landfills. With our extensive knowledge and specialized equipment, we make it easy for customers to take part in helping to divert recyclable materials away from landfills.
Our passion is to recycle as many waste debris items as possible, such as:
Scrap metals of all types
Clean wood debris (e.g., construction lumber waste)
Wire
Electric motors
White goods (e.g., washing machines, dryers, refrigerators, etc.)
Roofing shingles
And more!
Roofers Trust United Services
Roofing contractors know that we understand there seasonal limitations and whether related concerns . We specialize in the fast removal and recycling of roof tear off and asphalt shingle aftermath. We use safety underlayment under all designated roofing dumpsters to minimize driveway scratches or damage.
Call us at (630) 882-8833 to find out how we can help integrate recycling into your cleanup project.
Did you know? Methane gas is the second most prevalent greenhouse gas in our atmosphere and landfills are the 3rd largest source of it? (EPA)
We'll save your business money by conducting a waste audit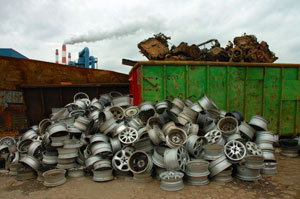 At United we can help boost recycling efforts and reduce waste removal costs. We do so by examining outgoing wastes produced at a company to determine which debris can be eliminated from the waste stream and instead recycled.


Our customized waste audit will save your business money and boost its recycling credentials!
By removing recyclable materials from the waste stream, we're able to reduce your waste disposal costs. For a larger company, this cost savings can be quite significant. Give us a call at (630) 882-8833 to see how we can help your business.